Skip to Content
Human Resources Support by Mineral™
Making the right HR decisions and staying compliant is one of the most challenging duties of any organization. Taking action based on gut instinct, past situations, or what seems logical can often turn simple HR issues into serious claims or complications. At Navigator Risk Management, we offer our clients up-to-date and fully compliant Human Resource tools to solve and process employee and company issues. For complete confidence, this support includes access to live HR professionals offering recommendations and assistance when our online tools don't address your particular problem. Cut down on employee claims, complaints, and mismanaged HR situations with our service today.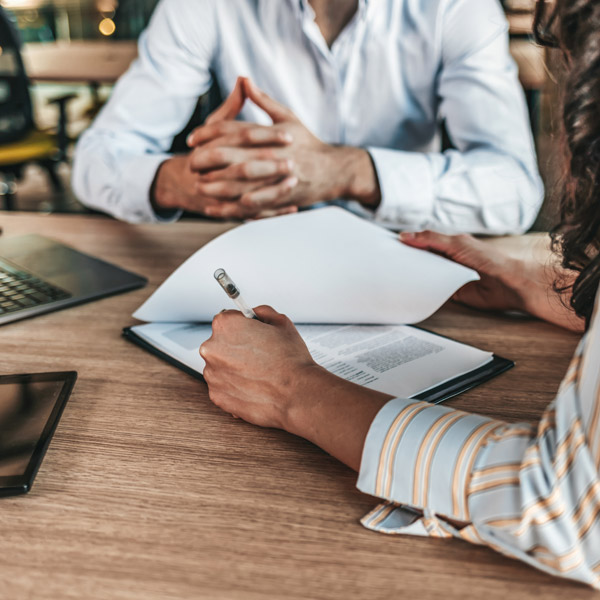 Being HR Compliant Just Got a Lot Easier
It's difficult for any HR department to stay compliant and current on employee policy and employment laws. Rules and stipulations change, and what may have been the standard process just a couple of years ago might have had a complete overhaul since your last experience. The last thing you want is to be surprised that your department mishandled a situation. Using our service, your team will have access to all current HR compliance laws and protocols to be prepared to handle any situation, including:
Workplace harassment
Workplace safety
Professional development
Discussing and developing benefit information
Job description writing
Anonymous reporting
Salary comparisons
Confidence Your HR Team Is Doing the Right Thing
With our Human Resources support services, you'll be adding valuable tools to your organization without having to invest heavily in an HR department and outside training. All of the training and tools you need to be successful are right here. We offer:
Confidence
Being confident your HR team is making the right decision in any situation can ease tension and unexpected issues.
Empowerment
The training tools and manuals you'll have access to empower your teams to train leaders, managers, and employees on protocols and compliance.
Live Help
Getting expert HR help in real-time when online tools don't provide the answers means you'll never have a situation where your company doesn't know what to do or what your legal obligations are.
Improve Your HR Resources Today
You can dramatically reduce your HR issues and claims within your organization when your Human Resources department, managers, and employees are educated and informed about compliance laws and HR protocols. Give your employees the tools they need to have the knowledge and proper expectations for a healthy work environment with Human Resources support from Navigator Risk Management. Contact us to schedule a consultation today.